---
OK, I got to push the car through the canyon today. The car really feels like a different beast altogether. So much sharper response in turns. Quieter ride, smoother. Is it my imagination or is there actually more power going to the wheels? It feels like energy that was previously dissipated in rattle/shock/vibration now is able to go where it's supposed to. I love it.
-Mitch C
---
Shaikh,
I installed my set up last weekend (koni yellow and racing beat springs) I know it isn't the most serious set up with the springs but, I did add your mounts and the propper bump stops. When in town the car has a much better ride with less roll and pitch. On the highway, it is VERY easy to accelerate to 75-80 and smooth and stable. Occasionaly I have gone well over this speed and the car was AMAZINGLY stable and smooth, the car wanted to go >100. It reminded me of my dad's 2006 330 but better.
Thanks,
-Ryan V.
---
I got the FCM custom coilovers installed this weekend replacing my Bilstein PSS coilovers. Oh wow! Took the car out to try some of the rougher Michigan backroads and am sooooo impressed. There are a couple of roads that I regularily drive and they have a few real rough corners. Before I would always have too back off on these corners to avoid losing traction, especially since I added the FMII to my car. With the new setup, I can agressively take those corners and the car will remain composed very well. I am so glad that I decided to go ahead and replace a perfectly good set of Bilsteins with some of your custom revalves.
-John R.
---
Shaikh,
The Bilstein HD revalve and bumpstops I purchased from you last February have proven to be something unique in my experience as a consumer of automotive aftermarket products; no down side. I have seen profound improvements in ride, handling, and GRIP both on the street and at the track. I appreciate not only the benefits to the safety and speed of my car, but also the customer service provided by yourself and your staff.
Sincerely,
-Roger B.
---
Shaikh,
Just wanted to tell you,I drove over 400 miles yesterday and 300 miles today.
I have made this same run several times over the last 3 months and a few of these roads are under construction and they used to wear me out. I ran these same roads over the last 2 days and didn't even notice the bumps that used to make me regret my suspension. The roads are still under construction but you couldn't tell it by me!
-"Thumper"
---
Shaikh,
Got them on the car over the weekend and boy everything works great. I think the car bottomed out once and it was as smooth as can be. I believe your bumpstops really made the difference between a slam and a cushy landing. Thanks so much for everything Shaikh! You have exceeded all expectations.
-Dave, North Carolina
---
Shaikh,
Had my toyo ra1's mounted on 15X7 rpf-1's Saturday, installed the shocks, FCM perches, mounts, and bump stops on the car Sunday. Holy cow!!! Did that transform my car. I am very pleased to say the least. Turn in is instantaneous. Very mild oversteer at the limit which is how I prefer it. Thank you very much.
-Ryan, Virginia
---
Hi Shaikh,
Last week I installed the FCM kit, even with the height decrease, there is a big improvement in ride quality, this kit is a must in my country were the pavement is far from smooth. Now there is room for the rear suspension to work if you find a bump in the middle of a fast corner and it helps to drive fast more confidently, the kit is just what I was looking for. Thank you for help me transform a fun car into an enjoyable car.
Best regards,
-Ricardo,Venezuela
---
Hi Shaikh,
I finally got some time to install your kit, The initial results are very good. It seems like the suspension is now actually working on the larger irregularities now, instead of making the car unsettled with the larger bumps. My wife actually noticed the difference you kit has made. I am now in the process of getting an alignment to get the most out of this mod. I am trying to make a decision on alignment specs from Keith Tanners performance projects book, and I am unsure whether to go with the street numbers or the sport numbers. Since I do not plan to put this car on the track anytime soon, I was leaning toward the street numbers. Do you have any opinion on this matter, given the information you have? I am also looking at tires in the near future, I have the factory 14 x 6 alloys. Do you have any recommendations on tires for these wheels.
Thanks for all your help,
-Keith, Maryland
---
Hi, Shaikh.
You might remember me. Ed B.
I was in the middle of changing springs in my '93 and having real trouble removing a lower shock bolt. I called you (from Massachusetts) about whether it was ok for the bump stops to move freely on the shaft of the shock. Well, everything went well with the back but that front bolt had to impact-drilled out the next day. Not sure why that happened. Luckily we had a replacement handy as I was sure it was not going to survive it's own removal.
Anyway, I love the way things feel now. It's hard to eliminate just the one variable as I also swapped to Apex srpings, but I've driven several lowered cars and this displays none of the harshness I associate with those experiences. Nice! I've written a few reviews on Miata.net and I'll be submitting a nice one for the bumpstops soon... or as soon as my procrastinating nature allows me. It's been a month since I put in the bump stops and you told me to let you know how it worked out. I got RIGHT on that one, huh? Gotta go. Enjoy your weekend and thanks again for getting back to me that day. You saved me the anxiety of wondering things were put together correctly.
-Ed, Massachusetts
---
After installing my FCM mounts and progressive bumpstops with my new KYB AGX struts, I noticed a great improvement in suspension travel and comfort. I was caught off guard by how much less travel the stock bumpstops give as I was driving up a ramp and bottomed out on my butterfly brace underneath my car due to the higher amount of travel with the FCM bumpstops. I have driven on Tein Flex suspension for the past 5K miles before de-tuning to a more mild suspension setup with more aggressive components (due to state laws here in Hawai'i), and I know that it is not the KYB struts that is making the difference in my car's suspension feel, it is indeed the FCM components I have to compliment the shocks.
Shaikh provides excellent customer feedback as well as support, and he resolves things in the best manner possible. I highly recommend his FCM products due to his extensive knowledge and R&D that goes into fine tuning the components to best suit the overall handling of any miata. Again, thank you for all your help and I will definitely purchase your products in the future.
-Colin, Hawai'i
---
Hey Shaikh, thanks for the follow-up phone call, I purposely waited to get back to you until after the track day. I went to NHIS in Louden NH with www.scda1.com This tuesday. On the downside, the car doesn't quite sit as low as I would have liked, or as I expected. But what really matters is how is feels and handles, and I'm very satisfied in that regard. As you can see in some of the pics (click them to enlarge), there's still considerable body roll, but (5-point) harnessed into the race seat, I didn't really feel like it was excessive. The car seemed to hang on real well in the corners, and the berms didn't upset the balance at all (credit the bump stops?). I was hanging with the Mini's and the Lotus Exiges in the slaloms, but gave up trying to keep with them on the straights.For reference, the alignment is somewhere around 4.5* caster, -1.8* front camber and -2.5* negative camber on Toyo Proxes RA1 rubber. So all in all, I'm pleased with the car. I hope to hit Watkins Glen in late August.
Thanks for all your work,
-Scott, New Hampshire
---
Hi Shaikh,
Just to let you know ....... I finally installed the Konis, FCM mounts and bumpstops in my '90 Miata. They sat on the kitchen floor this winter while I waited for better weather.
I drove the car today and it feels great. I'm getting a proper alignment this week and looking forward to the next autocross on the weekend. I expect the car will be a lot more manageable, based on the way it feels.
PS. I used the middle perch on the Koni's front & rear (stock springs). The ride height actually came up 1/8 in. in the front, and up 3/4 in. in the rear. It will probably settle down a little, but I'm fine with it.
-Bob, Victoria, B.C., Canada
---
Thanks for your spreadsheet! After reading and using the spreadsheet I made the changes to my 2004 MX5 MSM FMII and moved from the middle of the pack to first place! This is in South Texas PCA DE events. I now have a Honda CRX Si and I wonder if I can enter the suspension ratios etc. into the sheet and get valid answers or do the formulas change. The front is unequal wish bone and should work but the rear lower arm is different.
-Luther, Texas
---
Hi there!
Probably close to a year ago now I ordered a set of your aftermarket bump stops. I was installing them on a 1990 miata with a new set of kyb gr-2 shocks and tein s-tech springs. I just wanted to say the car drives amazingly now! It is so much smoother then my stock suspension, and I can definitely feel the extra travel the bump stops are offering. Thanks for making a fantastic product!
-Dustin, Victoria, B.C., Canada
---
Hello Shaikh,
I installed your 46mm bumpstops with the old generation Flyin miata springs and stock 93LE shocks(bilsteins). OMG what a difference! Even with the ride height being lower than stock, the car is actually a lot more comfortable to drive on the freeway now. The ride is firm and smooth. Thanks for your awsome product!
-Anthony, California
---
Shaikh,
Just wanted to let you know that I decided to add a 22mm NB FSB to my '95 which has your bump stops and R-pkg shocks/springs. The main reason I did it was due to your spreadsheet and the resulting FRC and roll stiffness values. Feels great ... balance and roll stiffness are better than ever! I'm grateful to you to have had the opportunity to 'test drive' various combos based on your spreadsheet before parting with the $$!!
Best regards,
-Bob, North Carolina
---
You're right, I'm a very happy man. I just installed the shockmounts today. The ride is like night and day. I can't wait for the next auto-x to try them out.
Thanks again,
-Leo, Texas
---
The shock mounts are the best thing I have done to my 1994. I was running Konis and GC springs. Lowered to the point that I was avoiding every manhole cover just to keep my fillings in. Now, I have had your mounts installed about 3 weeks and the ride height is the same, still running the Konis and GC's and ride is comfortable again. Thanks for a great product. The kit was very complete and the instructions were wonderful.
Thanks,
-Al, Tennessee
---
Wow the difference is unbelievable. Thank You!
Well due to financial concerns, I decided to install my FM springs on my 97 with your 46mm bumpstops. Wow! It never occurred to me that bumpstops can have such a significant impact on ride quality. My 1997 car equipped with 46mm bumpstops and 1st generation Flyin Miata springs retains a ride that nearly exceed oem; however, the handling difference is amazingly better on my 97' since I have installed your bumpstops! For example, long and gradual turns on county roads used to frighten me when I was running my 93' with fm springs and oem bumpstops, because the rear constantly slammed the bumpstops. As I compare and contrast my Miatas', I can say without a doubt that these bumpstops have made an improvement that is as significant to the behavior of the car as replacing worn out shocks with new shocks...
I'm going to recommend your product on the forums. I believe everyone should invest in a set of these bumpstops for their 1990-1997 Mazda Miata. Thank you!!! :)
-Cody, Alabama
---
Shaikh, I just wanted to let you know that the bumpstops have shown the most improvement at the track. I went to Thunderhill last year with the stock bumpstops and really lacked confidence in the fast sweepers. Today at Laguna Seca, I felt like the car had tons of predictable travel and it was difficult to upset the car (besides driver error of course).
Here's a picture of the suspension compression coming down the corkscrew. Anyway, thanks and see you at the next autocross.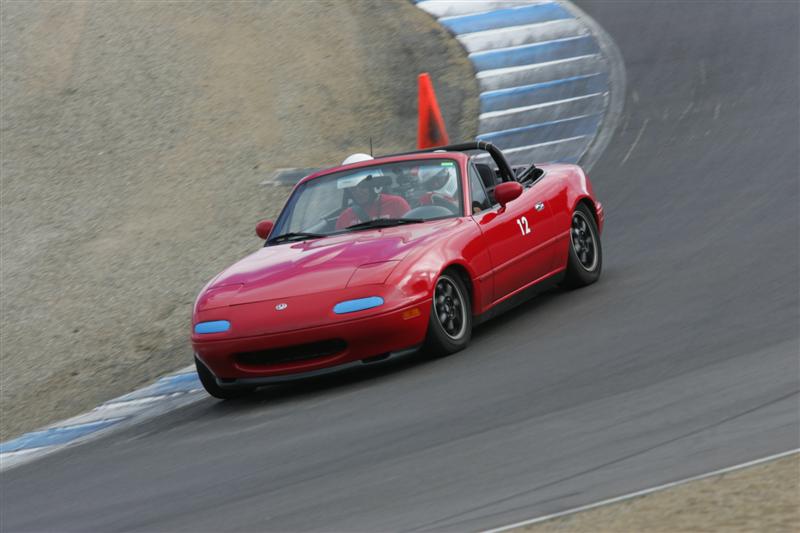 -Phil, California


---
I'm running 12.5" front, 13" rear, and a little higher on the driverside since the car was corner weighted. I have the 440/350 ground controls with bilstein hd's (recomended by both GC and bilstein at those rates).
I assume this is as good as it gets. Very smooth with no suprises going over bumps when trail braking (scary previously), no more skipping/dancing over bumps in corners at speed even on country roads, and I'm generally not intimidated by the long sweepers anymore.
Good product.
-Trey, Texas
---
Installed the bump stops and boots today. Wow! Feels like a new car and still handles great. I noticed that they look very similar to the ones on my '06 Mustang. The ones I pulled off were rock hard and not in very good shape. After running around town a little and tearing up the local high school parking lot, I've determined that was the best money I've spent on the Miata to date.
Thanks!
-Bill, Texas
---
My setup:
Koni adjustables Eibach Pro Kit, 292 F, 200 R FCM bumpstops
Ride height 12.5 F & 13 R. Ride quality excellent considering lowering springs, MUCH better than the stock bumpstops.
Thanks again.
-Kurt, Georgia
---
Every ride I take just re-affirms my decision to buy the stops. The ride is SIGNIFICANTLY better than before and the handling is much more predictable. LOVE IT! (Use that as a testimonial if you care to).
-Chris, Massachusetts
---
I did notice immediately that my car stopped bottoming out in the front during hard turns/braking while autocrossing. I previously had the "bump rubbers" from the old Chikara package. They produced a very hard *hit*, the front tires would break loose, and it was all understeer from there. It's easier to control with the new FCM bumpstops.
-Greg, Illinois
---
Your mounts/bumpstops are the best! Unbelievable upgrade, great craftsmanship and price, and next to nothing when it comes to your customer service! Install was a breeze... wow woweee! I'm gonna need another set for my 95M... the handling is straight butter even on a stiffer shock setting. Keep up the good work!
-Carlos, California
---
I want you to know how pleased I am with the 54mm front bumpstops. The bump stops have improved the ride and turn-in considerably - but the huge difference is in 3rd and 4th gear corners on less than smooth pavement.
With the stock bumpstops on some of my favorite local roads, I was experiencing corner exit understeer near the top of 3rd gear. I now use 4th in the same corners with the same shock settings as before. The car will also throttle oversteer now in 3rd gear when I feel like playing.
After 12 years of modifying and developing, I now feel that the car is perfect for my needs.
Thanks for a great product!
-Larry, Illinois
---
Just thought I would let you know that I got the shocks/bump-stops installed last week. Not only do they look cool (with the red boots), but it handles SOOO much better. I have yet to bottom out! A world of difference!!! My wife even commented on how much fun she had driving the car after I finished the install, and she never says that.
Thanks again!
-Steven, California
---
I couldn't believe the difference the first time I rode in Shaikh's Miata that had just had the shock mounts and bump stops installed. I think my exact words were, "Wow! It's a f*@#load smoother!" I am no expert, but whatever those things do, they really work. There were so many areas on streets where I remember there used to be jarring bumps and the car would bottom out, but it NEVER does it any more! I highly recommend his products, especially for people who want to have a better performing vehicle AND make their signficant others happier with a smoother ride!
-Emilie, California
---
I changed shocks and your stops at the same time, no report on the stops themselves, but it seems there's lots of posts on the M.net about it. I assume the new shocks keep me from bottoming out much more than my worn out shocks, but like I said, I deliberatly bottomed them hard at this one spot I know, and it was nice - smoooooth transition from travel to stop.
Man, I can't believe how much less I drift with the new shocks in. I knew it would make a difference, but wow.
-David, Canada
---
At first, I was almost kind of disappointed because I didn't notice a big change like Gary had indicated I might. I should have prefaced all of this with the Miata is a 3rd car and not my daily driver anymore. I also hadn't driven it in almost 2 weeks. With that said...the longer I drove it and began to drive over dips and bumps that I otherwise would have avoided, I noticed more and more of a difference. The car seemed to absorb the bumps much better. During some spirited cornering, I noticed the car was MUCH more composed during sweeper type turns. There seemed to be slightly more body roll during tight transitions (mimicking autox) but more composed. That seems to be the word that Gary and I felt best described our newly transformed cars...composed.
Sunday, I drove about 50 miles to the race with 2 tires and my jack and other race stuff in the trunk (ok, tires were in the passenger seat:)). I really noticed a difference with the added weight in the car. The suspension felt like it was doing a much better job at controlling the car. We only got 4 runs this time and the course was mostly sweepers and road course style turns with two small slalom sections and an eyebrow type turn...I was so focused on the tires for the first few runs that I missed what the suspension was doing. Finally, on runs 3 and 4, the tires got to the sweet spot and the car felt great!! I was much faster in the sweepers than I had ever been! I ended up winning my CSP class of 2 by a full second and paxed 7th out of 112 drivers...I was pretty impressed and highly recommend these to anyone. I think the M2 tops would have made it even better...
Sorry to be so long winded but I wanted to share my thoughts of going from "what's the big deal" to "holy crap, these are awesome"! Thanks again for all the time, effort, and I'm sure money that you've put into the Miata community.
-Chris, Florida
---
Just got back from changing out the shocks to the KYB's and your bump stops; WOW! What a difference! The ride is fantastic and the car handles like a cat with its claws in a carpet! I'd make that combo recommendation to anyone. I dialed the shocks in to 4 (out of 8) and have a good, firm ride; I'd like a bit more and think I'll probably settle on 5 for everyday driving.
Thanks again for all your advice; it is really appreciated.
-Jim, Illinois
---
It rides great!! I had two test bumps in my morning drive where the car "bumpstopped". Even my 14-yo daughter realized that the car no longer bottoms out!! Hope to see you tomorrow at the Tech day.
-Larry, California
---
I have had the new S-Techs, KYB's(3F/2R) and your bumpstops installed and driving for about a week and a half now. Initial impressions are the car has been transformed into a different vehicle. The ride quality is much easier on the butt! Part of this is due to the new shocks(set fairly soft) I'm sure, bit the biggest change is the rear not bottoming with a harsh thud over dips in the road, such as low pavement patches. Even my 13 year old noticed the improvement the first time I picked her up at school in the Miata, as there is one we cross every day, and it had bottomed every time previously! Those things work great.
Overall, the car not only rides better for me, but there is slightly less body roll(stiffer springs) and feels more controlled in its movements. I also took your advice and removed the rear sway bar while doing the changeout and I really love the change in handling. It's much more to my liking; less oversteer tendency, more predictable, more stable, real confidence building attributes.
Thanks again for your advice and the work you're doing for the Miata community.
-Max, North Carolina
---