"Oh my god! My impressions? Fantastic, this is amazing! Very very controllable...dude, you're going to get me arrested!" - Rafael R.
To learn more about why our FCM Elite approach is so successful, you can pursue several paths: our
simple and informative 'How Shocks Work' video series
,
free Suspension Truth PDF
,
'FCM Vision for Durable Design' video
(also on the home page),
Shaikh's candid conversation with Rafael ('The Driver')
who left us a
very ecstatic voicemail
after his first drive!
We have independent automotive magazine reviews from
Autoweek
,
a suspension shootout by Grassroots Motorsports (with FCM win!)
, and review by
Edmunds Inside Line
. There are hours worth of useful information in videos on our
Suspension Truth Youtube channel
covering many topics. A
Frequently Asked Questions (FAQ) page
answers many questions we've encountered over the years.
Starting with the wonderful Mazda Miata, we've been building FCM Elite suspensions for many different vehicles, including BMW E36 and E46 M3, Porsche 911 and 914, Nissan GT-R and 350Z, Honda S2000, Civic and CRX, Subaru WRX and STi, Mitsubishi Lancer EVO, Mini Cooper, Triumph Spitfire, Infiniti G35, etc. So even if you don't see your application listed there's a very good chance we can build an Elite setup for you.
Why FCM Elite? Simple!
You didn't pop from a mold.
Isn't it time to demand the same from your suspension?

The most important part of your vehicle is its suspension. It's what keeps every driver in control and safely connected to the road. For racers, the suspension largely determines your capability to win (or finish) a race. Wouldn't it be wonderful to have your car's ride and handling magically tuned to your exact needs from the factory? As we know, that isn't the case. Despite various factory or aftermarket packages available, could you be SURE you're getting the most grip / comfort / safety / control / fun?

Through owning, testing and racing dozens of vehicles, we've discovered certain assumptions made by automakers. Some make sense but no one asked you before doing it. These assumptions are a fundamental, almost unalterable part of how a vehicle rides and handles. A more expensive car usually has a better suspension than a lower cost one but that is largely due to marketing. Our intention is to maximize your returns on whatever vehicle you have and provide The Perfect Ride. We believe every vehicle owner deserves an excellent, uniquely optimized suspension. How do YOU use your vehicle, what does YOUR driving environment require, how can we make all the parts of the suspension work together in exquisite harmony? Only we take suspension design to this level. Yes, it's our obsession!
"The ride is sophisticated. Nicer than stock. The handling is almost supernatural. No autocross here, but lots of mountain roads and I've never any fear of weird bumps or transitions in mid-corner. The car now deals with those bumps very quickly - no drama. There's always plenty of traction coming out of the corners. I'm convinced that Shaikh is an actual genius. He's also a nice guy, approachable, enthusiastic." - Spencer W.
Looking into our crystal ball, we see that you have a vehicle you care about and intend to keep for some time. Perhaps you've been researching for days, weeks or months and have hit information overload. Or you simply don't want to be bothered with all the details and prefer to pay someone who knows and you can trust. Perhaps you're fully capable of wrenching on a car but in all honesty would rather drive (or race) it than play with putting dozens of parts together. You're willing to invest in an improvement - not just make a "change" - knowing it'll last for years. We understand what you need, because we've been there too. Take a deep breath and relax. Consider us as a sort of suspension therapist - we want to get to the heart of the matter and harmonize your relationship with your vehicle.

"The increase in performance was amazing while still maintaining good street manners. With the slight drop and higher spring rates, I can load up my bike rack and back out of the driveway without scraping. It's exactly what the car should have been from the factory." - Joe N.
Playfulness partly aside, our core belief and the only reason why Fat Cat Motorsports started over 15 years ago was a Quest for Suspension Truth. It is what we still obsess over, finding out what makes a suspension work and apply that to any vehicle in every possible application. Read on and we'll share a bit more of our story and how we're making 'magic' for our customers.
It all began as with most enthusiasts, a desire to improve performance of our daily-driver that we'd sometimes race, Keeping decent street ride was important but we assumed that great handling had to mean poor ride. At the time that seemed a reasonable compromise for us but a passenger / significant other might not agree! Most vendors could provide little in the way of clear, technical insights other than "you'll like it." There were 'forum experts' who often had a personal bias based on limited testing outside their favorite "Brand X." Almost like throwing darts while blindfolded, we bought some parts and started our journey.
Initially, we did fall victim to that clever marketing we already mentioned. Our cars got stiffer and faster but we (and our passengers) weren't happy on the street. Even with the added stiffness, the ultimate grip and control we dreamt of still eluded us. Why? There had to be a better way to enjoy spirited handling and retain a civil ride, without saving for a supercar!
The more we investigated, the clearer it became that the shock absorber itself was the vital ingredient. How did that affect the interface of vehicle to tire and tire to ground? 'How does a shock work?' became our continuous question, combined with "what makes one shock absorber different or better than another?" Most information we came across was either more assumptions, half-truths or (we found out later) flat wrong. As a favorite teacher once said "ignorance is NOT bliss!" So we kept asking questions, testing other shocks, taking test drives, asking more questions...
However, merely asking a question won't always bring an answer, but we had opened the door to discovery. Coupled with
sophisticated on-car analytical tools
and a love of / experience with
engineering spreadsheets
, Shaikh began compiling data on every setup he tested or had detailed reports on (strong preference to his own tests). The most important data gathered were the combination of
shock dynamometer results
with seat-of-the-pants or
competition testing
. Later, we teamed up with some very talented engineers to do numerical suspension simulations and 3D modeling which greatly enhanced our conception of how different factors - shocks, springs, bump stops, sway bars, camber curves, etc. - interacted. This also allowed us to design high-quality, world-class single- and double-adjustable options for the discerning customers. These additions made our favorite Bilstein shocks even more capable, in our own Fat Cat way. In fact, all along our journey of discovery we've been aided by incredible generosity and support, 'angels' in the most practical and human sense of the word. We couldn't have done this without you (and you know who you are!).
Suprisingly, what we found the most challenging step in integrating what we learned was letting go of preconceived notions. Ah, yes - beliefs! Tenacious, aren't they! Perhaps you'll also have this experience (or have been as you learn more about Suspension Truth). Our goal wasn't to be weird or different "just because" - we simply wanted to know the Truth; what really worked and build it, since we couldn't buy it elsewhere! Knowing it was possible, we wanted and needed to have a fast car that was still comfortable. Or to make a street-only daily-driven even more comfortable! Luckily, a few key principles began to stand out. When we applied these principles or Truths to a Comfort situation, we'd get smooth ride that was surprisingly responsive. When applied to a Race customer, we'd get lower lap times with ease (and not punishment). The best of both worlds! (For a discussion of a vital concept to achieve this balance especially for Comfort or GT applications,
watch our 'Flat Ride' video
).
Poise and confidence in a vehicle is a benefit of maximizing grip, which is the road-holding ability of your tires. Many products out there maximize the 'feeling' or 'sensation' of performance but are not actually keeping the tire in full contact with the ground at all times. Without very careful tuning of the shock absorber (truly, for each person and application), plus how the shocks interacts with other factors, it's impossible to get the 'feeling' just right AND keep maximum grip. Grip isn't just for handling, it's also a safety concern. A car that bounces, jitters and doesn't inspire confidence will not reward you in an emergency situation, sudden lane change, animal in the road, an unexpected patch of oil, ice, gravel, etc. In fact, the less comfortable a setup was, the less likely you'd get maximum grip. This 'blending of apparent opposites' was a very satisfying discovery!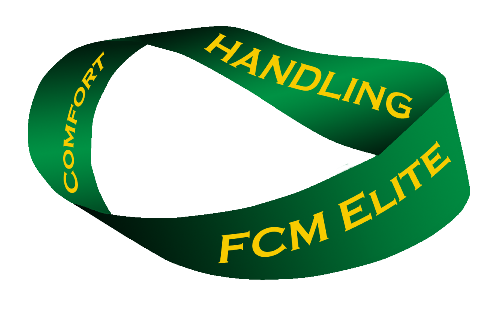 Once we stopped assuming and started testing, a smooth integration was revealed, combining our physics / math / engineering training, competition driving experiences and innate sensitivity to what makes for a compliant car. Even a seemingly unrelated area such as ballroom dancing started to have parallels to discovering ultimate speed and grip. The wins and grins began adding up! It's been quite an obsession to dive into this very mysterious world of vehicle suspensions and come to some key realizations which make it so much simpler to achieve fantastic results no matter your particular needs. The videos we've created illustrate how we perceive these Suspension Truths. If you find them useful or thought-provoking, do share with your friends. Not to get too metaphysical, but even though you're buying a Fat Cat product, you'll experience these Truths, Sculpted to your needs, as close to perfection as possible.

"The FCM coilovers appear to be as close to perfect as I can imagine after quite a bit of "street" time. As far as street performance is concerned I am very pleased running. Much more control in cornering than with the previous setup. The best part is that I can blast out of a corner and not go sideways. This was a pleasant surprise! The car has a totally different feel and the power to do whatever I want. No observable sway no matter what! I can hardly wait to get to the track." - Harry H.
Through extreme focus on this one area, we've been quite successful as our customer testimonials and many race wins (track and autocross) illustrate. We've won a Grassrotors Motorsports suspension 'showndown' and received high marks from Edmunds InsideLine blog ("More Grip than a Nissan GT-R" they wrote!), who has an FCM Elite suspension on their long-term test Miata. Very importantly to us and you, we pride ourselves on building a relationship with our dedicated Elite customers. You can stay connect with us via
Facebook page
,
Goggle+
, or
Twitter
. By providing as much information as we can on this website and numerous videos, we trust that those who reach out are ready to Join the Elite and don't need more convincing. This is also our motivation for making many informative videos to assist your decision-making process.
If you want your uniqueness celebrated, allowing you to experience ride and handling tailor-made for your vehicle, then FCM Elite is for you.
Starting from the inner workings of the shocks, to choice of spring rate, spring length, bump stops, ride height, and more, our multi-layered approach allows us to deliver unique, precise, optimal grip and composure. We've not seen anything like our FCM Elite build process anywhere else! Here's a video that describes the
Elite consultation process
. Even watching a few minutes will show what detail we put into each unique, FCM Elite shock or coil-over product. We don't have an interest in mass-market shock absorbers because you get ho-hum results (at best). We want to deliver "The Perfect Ride" for you!
Once you are ready to buy an FCM Elite shock or coilover setup, or have just a few questions before ordering,
send us your consultation form.
Ideally, we'll speak with you 'live' (phone or Whatsapp) to answer your questions and make a one-to-one connection (which is important to us). We'll determine method of payment and any payment plan details for your tailored FCM Elite setup.
The most common question we hear is 'how long will it take to build my Elite setup?' The answer is 'it depends.' We focus on accuracy and are extremely detail-oriented in our approach which requires time and also patience. Realistically, you can expect 8+ weeks depending upon the season and current demand and sometimes longer if we're particularly busy.
We have nearly 1000 FCM Elite setups all over world, including Greece, UK, AUS - so yes, we can ship to you! We use FedEx Ground for continental US, USPS Priority for Hawaii and USPS Global Express Guaranteed for international Elite orders.