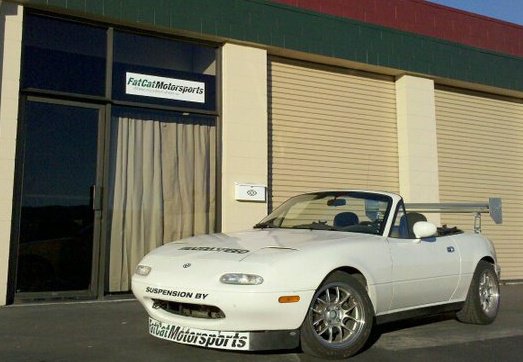 Shaikh's note: I switched my '94 R-package with FCM Variant 1 shocks from E/Stock to STR class, turning it into a Variant 2 system by adding our mounts and coilover sleeves. Same base shock valving. Spring rates are now 425/350 and car was quite flat yet comfortable. However, steady state there is a good bit of understeer, as calculated. For grip, handling and ride quality reasons, I wanted to keep the same sway bar and primary spring rates but tune out the push. Possible?
I sourced spring rubbers from our MCU bump stop/bushing vendor and checked the behavior on a skidpad.
From 5 lb. to 10, 15, 20, then up to 50 lb. (stacked). The car is now neutral, beautifully throttle-steerable. Plus, with the rubbers removed it's more comfortable for street use. A perfect way to fine-tune without the time, hassle and reduce compliance of stiffer springs.
With 15x9 wheels and 225 Toyo R1Rs, I can pull about 1.3g and the car really does corner like it's on rails!

Spring rubbers are available in pairs. We recommend mixing and matching in 5 lb. increments. Stack as needed to increase the rate. For certain springs, the inner edge of the rubber may need to be cut to allow insertion between the coils. The 'donuts' must be sliced through prior to insertion, as shown in the right side image. Uncompressed, our spring rubbers are 1.25" (1 1/4") tall.

IMPORTANT NOTE! Spring rubbers are NOT designed to raise your car although they can provide some small lift. They are intended as a tuning device for handling. Best fit is on 2.5" 'race' style springs but can also work on 3.25" stock style springs..